Special issue Millesime 2015 – RVF
The  special issue Millésime 2015 of the Revue du Vin de France has just been published.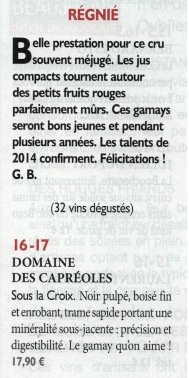 After Diaclase in the special issue Millésime 2014, we have decided this year to submit Sous La Croix 2015 to the jury of the french magazine.
On the 32 wines submitted for the Régnié appellation, only three have distinguished themselves and our vintage Sous La Croix is one of them with a nice score of 16-17 / 20.