The hidden treasures of Beaujolais
The wine magazine "Revue du Vin de France" puts the spotlight on the Beaujolais in its July-August issue.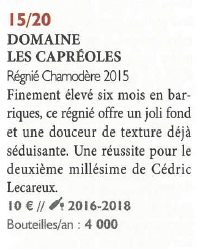 Guillaume Baroin et Alexis Goujard present a selection of 94 major Beaujolais wines to discover this year.
Chamodère 2015 belongs to the category "The Great Classics : Blood-red and fresh wines supported by the terroir" with a nice score of 15/20.